All Access Pass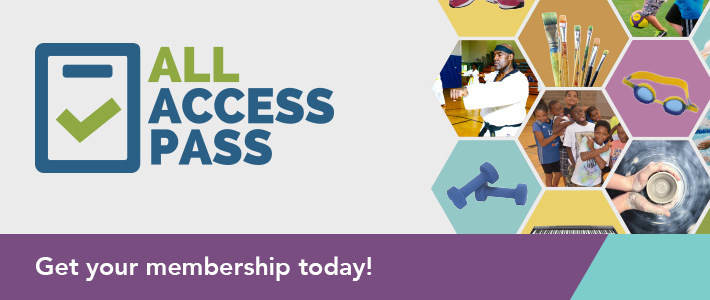 $100 Discount One Day Only~Saturday, April 7~online or at any KC Parks Community Center!
All Access Annual Passes are good all 10 KC Parks Community Centers.
Fitness centers, open gym, public ice skating and select classes are included.
 ~Valid one-year from date of purchase~
Brush Creek | Garrison | Gregg/ Klice | Hillcrest |  Kansas City North | Line Creek | Marlborough | Southeast | Tony Aguirre | Westport-Roanoke
PRICING
 Adult All Access Pass: $300
Senior (60+) All Access Pass: $200
The pass may be used for the following at KC Parks Community Centers only:
Adult Swimming Lessons
Aqua Stretch
Open Swim
Lap Swim
Water Aerobics
Arthritis Aquatics
Water Volleyball
DIY Home and Craft Series
Bootcamp
Cardio Tennis
Spin Class
Step Aerobics
Group Tennis Classes
Walking Passes/Walking Club
Zumba at Brush Creek Community Center
Zumba Gold
Chair Aerobics
Open Basketball
Open Pickleball
Fitness Room
Public Ice Skating
This pass can not be used for rentals, class (unless specified), or activity fees.
For more information, call 816-513-7500.